Hello Brands & Businesses!
Custom Bottle Labels on Rolls for Organisations of All Shapes & Sizes
Self Adhesive Labels on Rolls
While adhesive labels (also known as product labels) and promotional stickers can be produced in a variety of ways, we specialise in printing them on rolls.
Why? To make is simple to apply them during packing or bottling, either manually or with a machine.
Why Produce Adhesive Labels on Rolls?
Producing on reels allows for simple and versatile processing and application of labels when it comes to packing or bottling – either via machine or manually. These types of labels can also be referred to as pressure sensitive labels, digital labels or just simply roll labels.
How are they used?
While most of our labels are applied by machine (e.g. labelling machines in production lines), they can also be applied manually—perfect for small teams in startup companies. But no matter how they're being applied or what they're being applied to, our self-adhesive labels on rolls make the job quick, clean and efficient.
Not only that, but they can be printed in various shapes and sizes, and with a number of different finishes.
So if you want to advertise your products (and your brand), custom printer labels are the perfect choice.
Self-adhesive labels on rolls − Technical Overview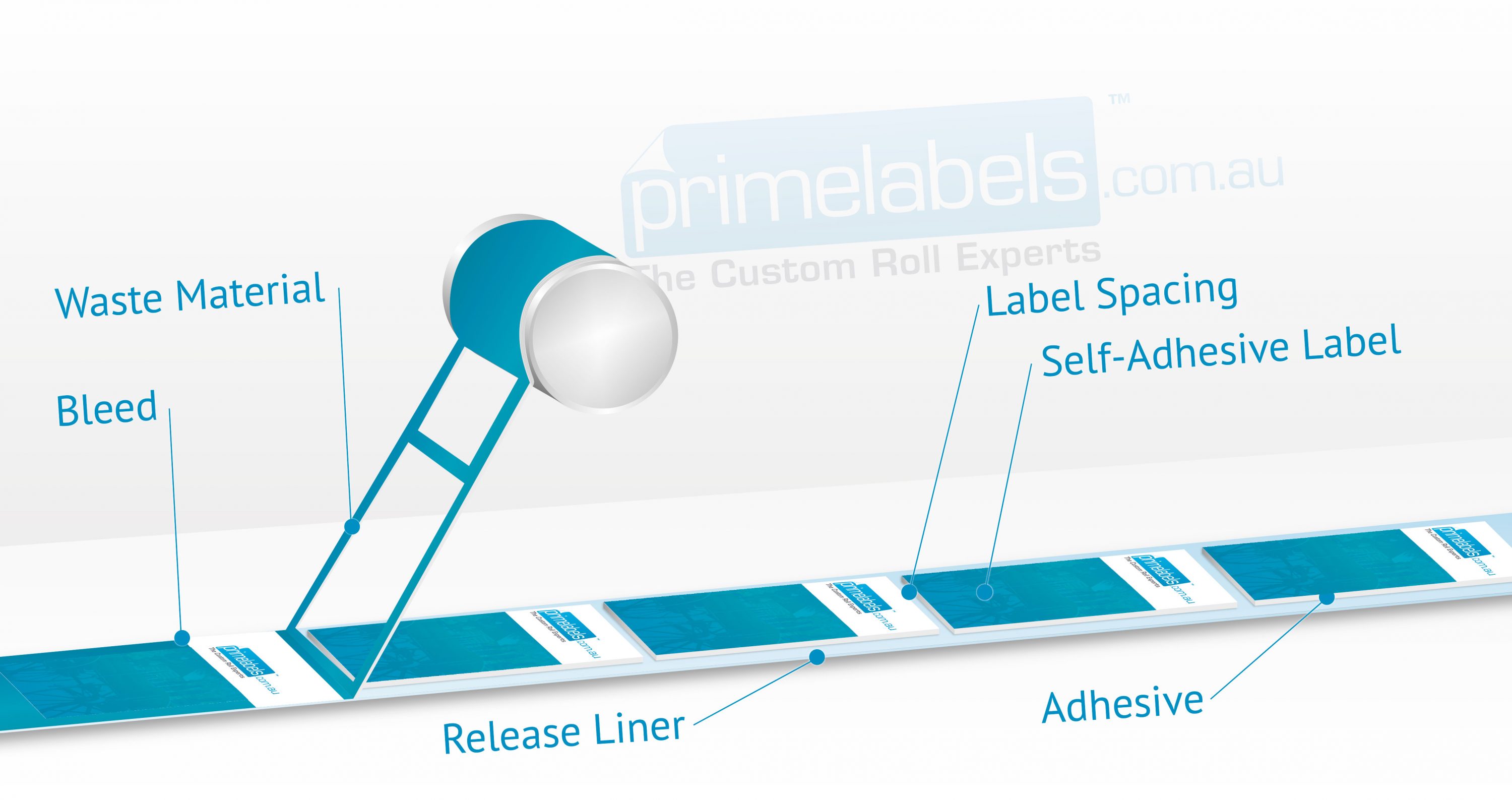 What are the Benefits of Adhesive Labels Printed on Rolls?
Apart from the speedy and efficient application times mentioned above, roll labels have a number of other benefits as well. Custom shapes, sizes and finishes are all possible. Advertising your brand and product through use of custom printed labels has never been easier!
What materials can they be printed on?
We can print them on a range of materials—from standard through to premium, as well as some specialist materials. Most of them are permanently adhesive, which makes them perfect for product labelling. But we can provide you with freezer-grade and low-tack adhesive options if you need them. (Tip: Order a free sample pack so you can check them out for yourself.)
Can you make custom-shaped labels?
Absolutely. We can create them almost any shape and size you can imagine—from circles and rectangles through to intricate designs. Using your print-ready artwork, we simply extract the relevant information (size and shape) and use it to create the cutting tools we need to make them.
What colours can I choose from?
We can print just about any colour (and any combination of colours) you can think of. We can even print metallic colours, simulate metallic and foil stamp metallic colours, which will add a touch of class to your premium product labels including Christmas labels
So whether your design calls for a single colour or a four-colour (CMYK) process with Pantone Spot Colours, we can print it.
Self-Adhesive Labels FAQs
Tools & Resources

Self-Adhesive Labels Summary:
Any Shape, Any Size Labels
Industry & Machine Ready
Custom Roll Sizes
PrimeLabels.com.au Summary:
Trusted Label Manufacturer
Free Delivery
5-10 Working Day Turnaround