Crafting Your Brew's Identity with Short Run Beer Labels from Prime
Long Lasting Labels
Fast Shipping and delivery turnaround
Industry-wide approved materials
Comes in all shapes and sizes
High-quality printing
Heavy duty moisture, refrigeration and water resistant
Best for short run label printing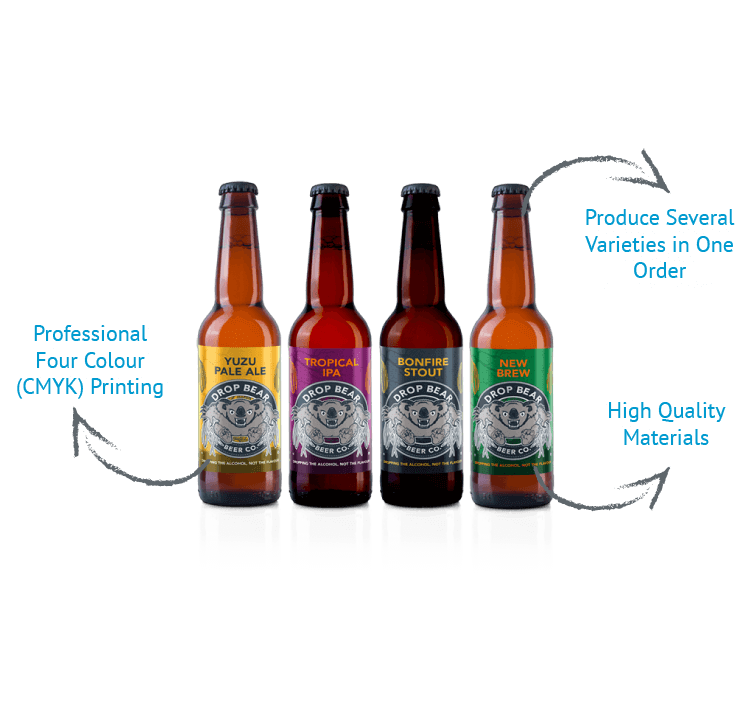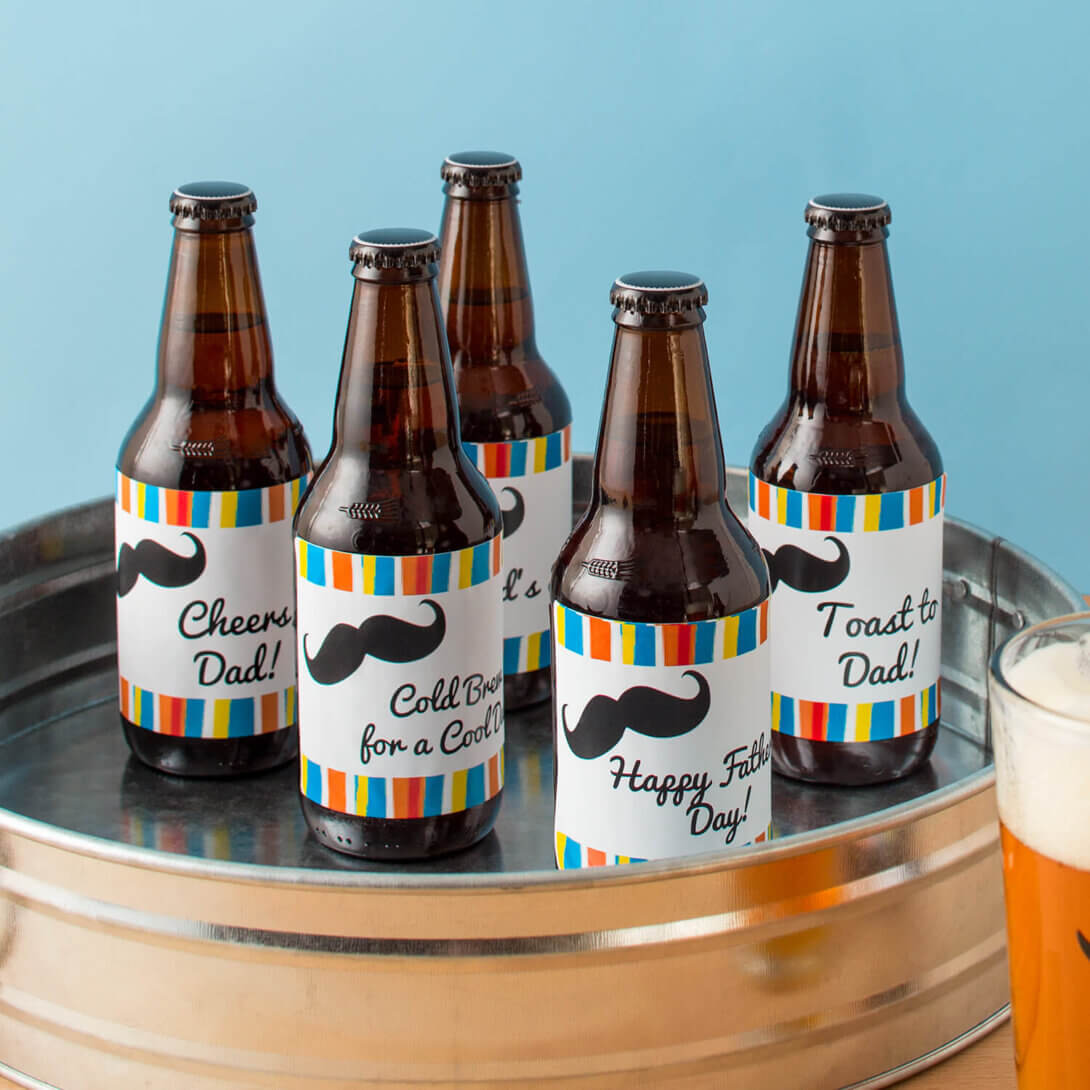 Do you need High-Quality Beer Labels for your bottles?
Crafting beer is more than a process; it's an art that requires passion, precision, and pride. At Prime Labels, we recognize the dedication that goes into brewing, and we're here to ensure that your beer labels match the excellence of your craft. With growing competition, a remarkable brew, striking label design, premium materials, and functionality have become essential. Whether it's Ale, Porter, Lager, Craft Beer, or Stout, Prime Labels is your label printing company, dedicated to helping your brew shine.

Product is very good and fully meets expectations. Clear site with good, quick functionality – and if you still have a question, the customer service team take care of it straight away.
Michael K.

Great service, good advice and a very high quality result at a fair price. Highly recommended!
Whitney Prosper

Very happy with the quality of my label! It looks great! The service was very friendly and professional! I definitely recommend it!
Ellie
Need labels for the bottle neck, or just the front and back?
Your packaging is your brand's ambassador, and it speaks volumes to your potential customers. With beer bottles, the options are vast:
Neck Label: A small label around the neck of the bottle adds a touch of exclusivity, making your brew stand out.
Back Label: The most vital label, containing crucial information such as alcoholic strength, filling quantity, producer, and expiration date.
Front Label: This label is your brew's introduction to the world, catching customers' eyes and telling your story.
Wrap-Around Labels for Craft Breweries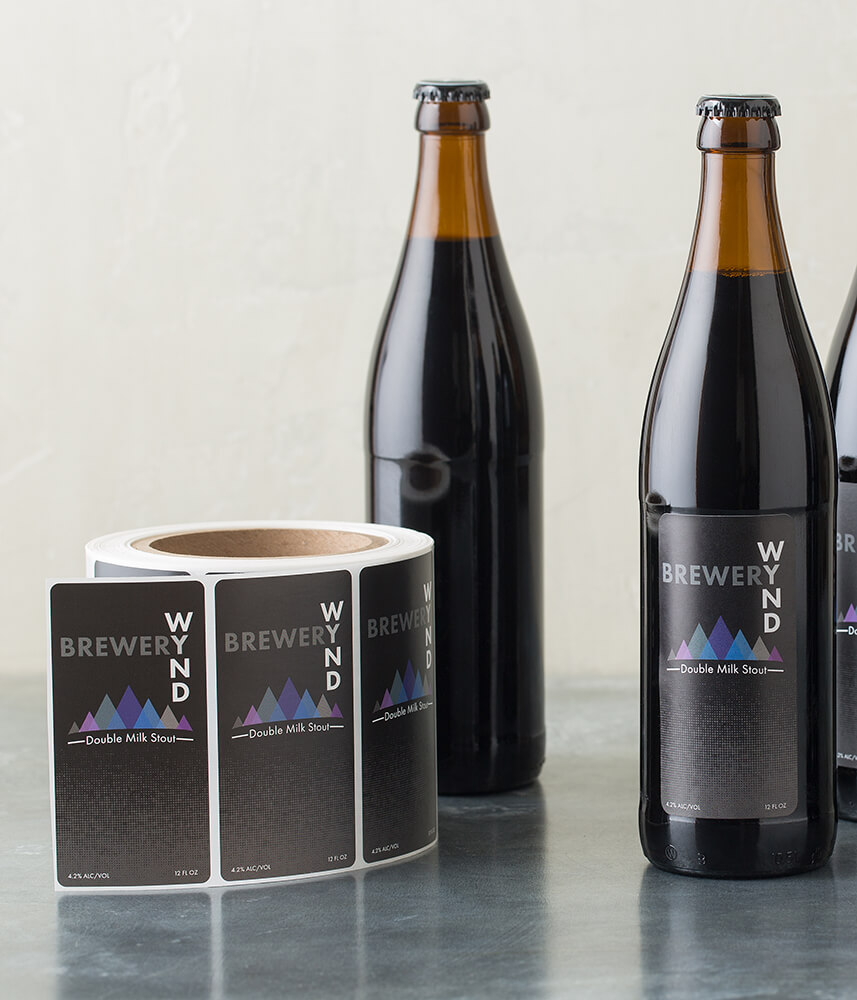 Need something more specific for craft brews?
For craft breweries, we offer wrap-around labels that combine the front and back labels into one. This option is ideal for both 330ml and 500ml beer bottles, a popular choice among craft beer enthusiasts.
Craft Beer Labels: Distinctive and Captivating.
Craft beer labels are an art form in themselves. They mirror the personality of your brew, communicate its essence, and captivate your audience. Our craft beer label design considers every detail of your product and brand, ensuring a perfect match between what's inside the bottle and what's on the outside.
Shapes, Sizes, and Materials for Every Brew:
Metallic labels for an upscale feel.
Hot foil in dark green for a touch of sophistication.
Partial varnish over your logo for a textured finish.
Personalization Trend: Your Label, Your Identity.
Our digital printing technology enables efficient short runs and individual personalization. Each label can be customized with different names, codes, or unique details, opening up endless possibilities for personalised branding.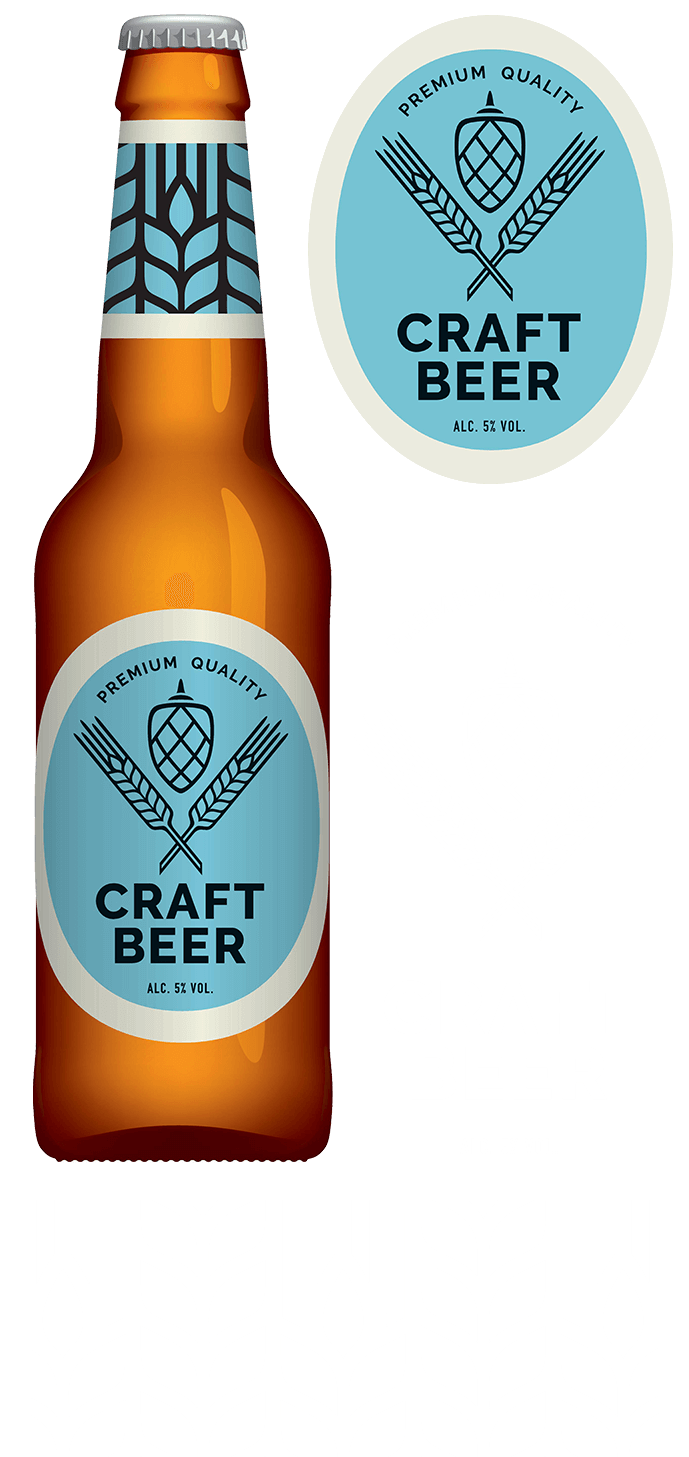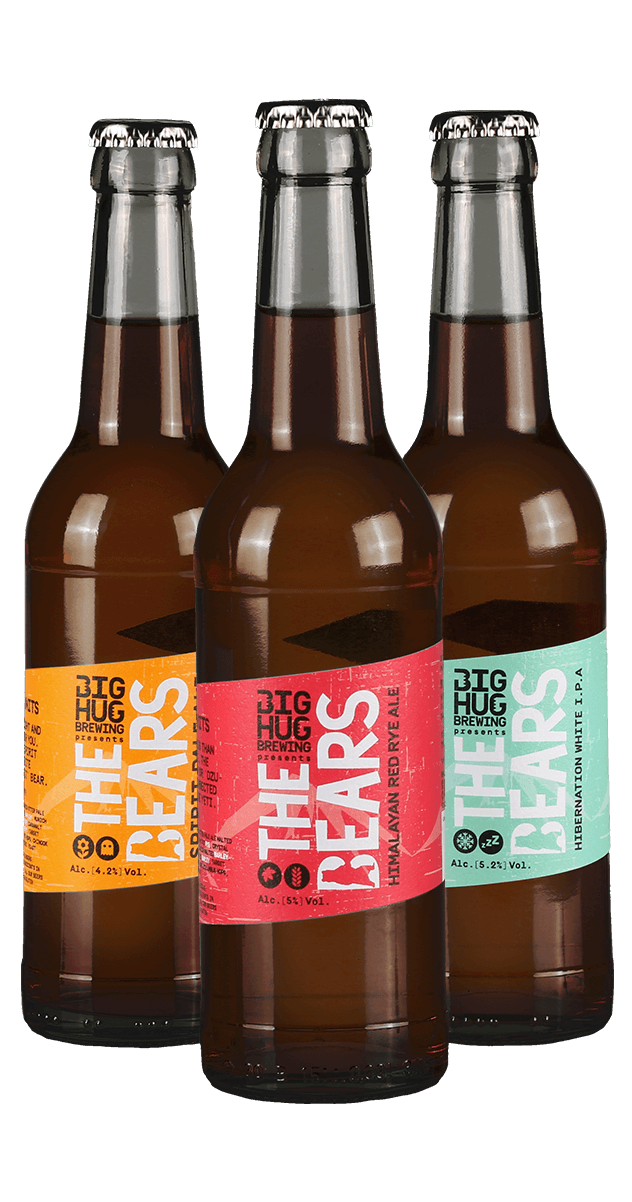 Discover Our wide range of Materials for your beer label needs
Choose materials that resonate with your brew's character and quality:
High-gloss white paper.
Matt white paper.
Textured white paper.
Metallic-coated paper.
Glossy white PE film.
Transparent PP film.
Create multi-versioned runs by combining different designs or personalizing with EAN-Codes (barcodes) for each bottle. Provide an Excel sheet with the details, and we'll bring your vision to life.
Fast, Reliable Delivery
With stock and tools in place, standard delivery takes 5-10 working days, ensuring your brews hit the shelves on time.
Elevate Your Brew Business with Prime Labels: Stand Out and Shine
In the competitive beer business, where every bottle competes for attention, it's not just the brew that matters; it's the presentation. A label isn't just an adhesive; it's the spark that ignites brand distinction. Just as in the bustling honey products market, where countless brands vie for shelf space, the label can transform an ordinary bottle into an emblem of excellence.
At PrimeLabels.com.au, we don't just create labels; we craft statements. Our labels don't merely stick; they shine, capturing eyes and hearts alike. Just as in the honey market, where a label is more than a detail – it's a testament to quality and identity – we understand that a beer label isn't just a decoration; it's a voice.
In the world of brews, make yours the one that shines on every shelf. Turn to Prime Labels, where your brand becomes a work of art.
Print Multiple Brew Label Designs on The Same Run
At PrimeLabels.com.au, we've honed our processes to align seamlessly with your beer label needs. Our Online Calculator empowers you to effortlessly request a range of beer label designs in a single print run. This not only streamlines your operations but also leads to substantial cost efficiencies.
Whether you're aiming to blend designs for front and back labels or distinguish between your Pale Ale, Stout, IPA, or a special seasonal edition, our multi-order functionality is a game-changing asset. This valuable feature caters specifically to medium-sized breweries that thrive on short-run production cycles. With Prime Labels, you can navigate the complexities of beer label design with ease and efficiency.
Still need time to decide?
Take a look at our selection of materials and review some of the different finishes you can choose from. Our convenient sample book includes numerous sample labels printed on our standard materials. Convince yourself of our printing quality and be inspired by the different finishes. It's completely free of charge and we offer it for brands and businesses of all shapes and sizes.
Need tough labels that withstand cold and hot temperatures?
At prime labels we have the range to cater to beer bottling that goes through different temperatures.
We use two main ways that keep beer labels looking fine even after two months in the fridge; the first by using a protective varnish on all of our labels (suitable for printing your BBE dates etc.) and secondly offering a range of materials that are designed to withstand such conditions.
If you still have doubt, don't hesitate to call us on, 1800 954 777, or write your concerns to info@primelabels.com.au.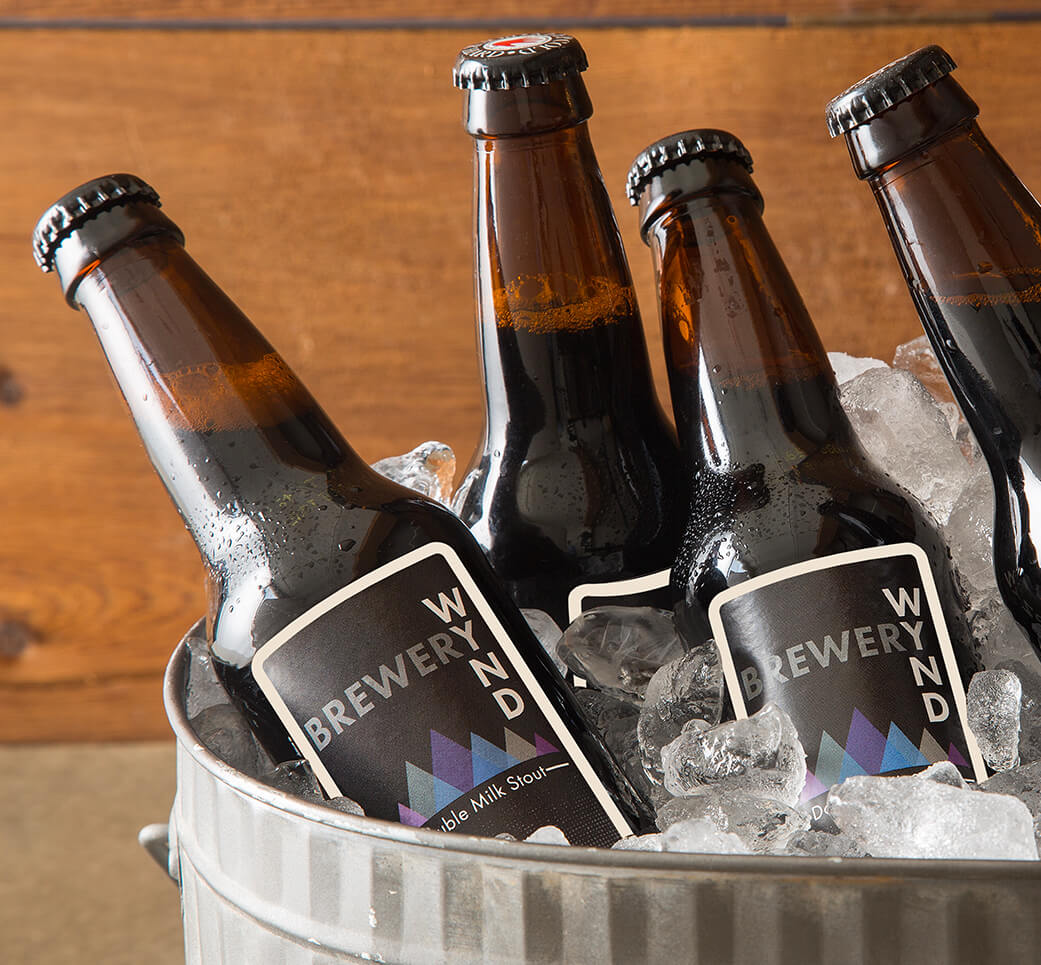 There are many reasons as to why your business may need to see a press-proof before placing a full custom label order. We've developed a range of cost-effective proofing services.
Label artwork always has been and always will be a key part of the label printing process. For business who do not have resources to ensure their artwork is print-ready, we have a range of Artwork Services available.