Hello Brands & Businesses!
Custom Bottle Labels on Rolls for Organisations of All Shapes & Sizes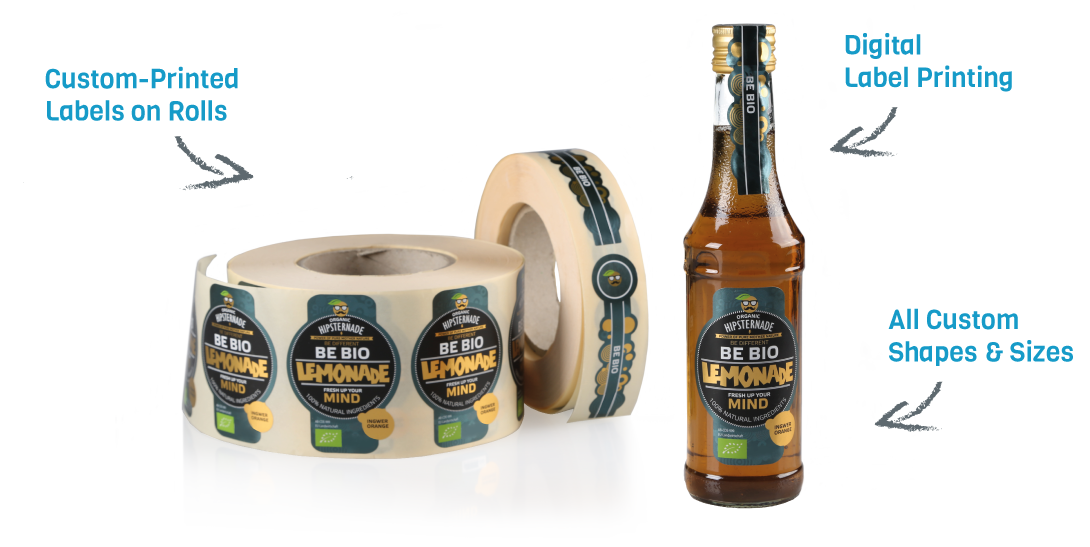 Labels so good you could bottle them
Modern business and retail environments can really put your brand's custom printed labels to the test. So you need to choose a label supplier who not only understands the challenges involved, but knows how to solve them.
As Australia's online roll label manufacturer, we can print custom bottle labels for your brand and business in any size or shape. Whether you're producing different varieties of your product or bring an entirely new product into the marketplace, we can create the product labels you need.
We already print labels on rolls for businesses producing everything from food and beverages to chemicals and nutraceuticals. And because they're all shelf-and-industry-ready they're unaffected by refrigeration and other logistical processes.
Labels that are as unique as your products
We specialise in printing self-adhesive labels on rolls because it gives us the freedom to customise how our labels both look and function. And that's important, as different packaging will need different-sized labels.
For example, beer is often sold in 330ml and 500ml bottles. Those different-sized bottles need different-sized labels. And then there are the brands that differentiate their products by using labels in different shapes and sizes featuring hot foil stamping and other premium finishes.
This kind of flexibility is simply too hard (if not impossible) to achieve with custom labels on sheets.
Choose from a range of industry-ready materials and surfaces
The material you print your labels on is often determined by the environment they'll be used in. For example, wine and spirit labels tend to be printed on textured matt papers for that premium feel, whereas labels for cosmetics and chemicals are usually printed on oil-, water- and chemical-resistant polypropylene (PP).
That's why we stock a range of fully certified and industry-approved materials, each with its look and feel. And you can see (and feel) them for yourself by ordering a free sample book.
Digital label printing for maximum flexibility
One of the biggest game changers for us (and the entire label printing industry) has been the introduction of digital label printing technology. And we use the highest quality technology available—HP Indigo Technology.
We can now print labels in quantities of a thousand or more. And as long as they're all the same size and shape we can print multiple variations of the same design in a single print run. No more expensive printing plates, which means lower costs for you.
What's the best way to apply printed roll labels?
The most efficient way to apply custom bottle labels is by machine. It's much faster (not to mention cleaner) than any other method. If you're considering applying them by machine (or overprinting your labels), you should also check out our label application page.
What is the Next Step?
We pride ourselves on offering friendly, professional customer service and bespoke advice. Please do not hesitate to get in touch with our team; we are here to help.
Please feel free to leave us a message in our contact form.
We are also available during our regular business hours between 8.00 am and 4.30 pm, Monday – Friday.
Tel: 1800 954 777
E-Mail: info@primelabels.com.au
Bottle Labels FAQs:
Types Of Bottle Labels:
Tools & Resources:
Bottle Labels Summary:
Any Shape, Any Size Labels
Industry & Machine Ready
Custom Roll Sizes
PrimeLabels.com.au Summary:
Trusted Label Manufacturer
Free Delivery
5-10 Working Day Turnaround