Hello Brands & Businesses!
Custom Labels on Rolls for Organisations of All Shapes & Sizes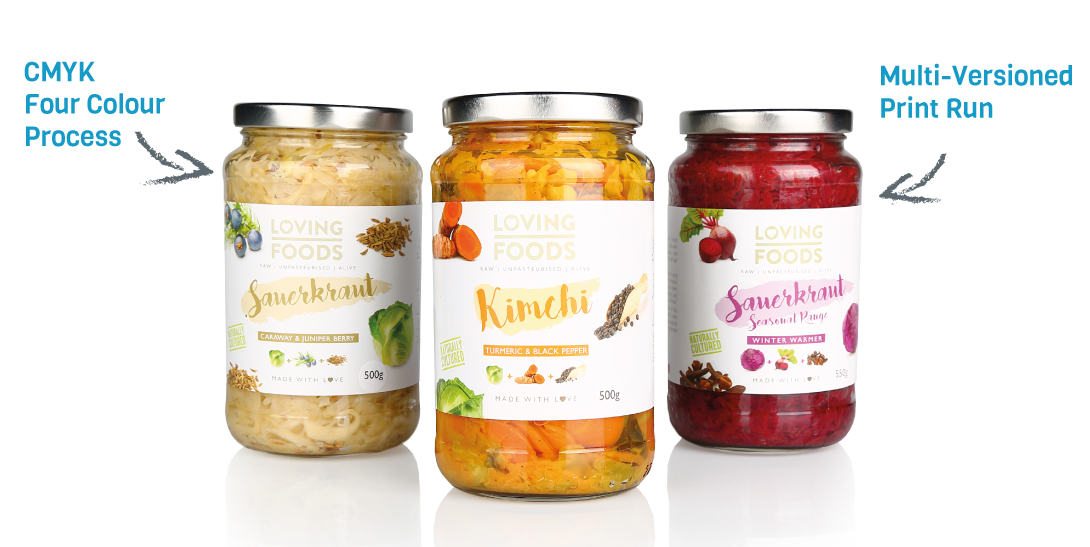 Food Label Printing
Foods come in a variety of packaging – jars, cans, bottles, pouches and so on and the most popular way to brand these packaging types is via labels on a roll.
At PrimeLabels.com.au we can print food and product labels digitally, which gives your business the freedom to launch more flavours and limited editions to match your customers' wants and needs.
Food Labelling Legislation
Most food labels are just stickers—the same stickers we see on bottles, cans and cartons. But you need to make sure they don't breach food labelling legislation.
Here are some of the rules you need to follow, which can affect the materials and printing processes used.
The visible side of the label must not come into contact with the package contents.
You can't print in the inside of the food packaging.
The colours you choose for your food labels must be resistant to the food itself. But you also need to make sure it doesn't change (or even influence) the food's taste, smell or appearance.
How are Food Labels Applied?
Tins and jars are usually labelled at some point on the production line, whereas fresh meat is usually packaged first and then labelled by hand using a roll of adhesive labels.
Our roll labels have all been tried and tested to ensure they meet all legislation requirements regarding food labelling.
Your choice of materials and shapes
Food labels are usually printed on paper. But we can also use printed films or transparent labels (as well as a number of finishing processes) to give you the perfect look for your labels.
You aren't limited to the standard shapes either. We can create labels in whatever shape you need. And if you're thinking of something even more unusual, we're more than happy to talk about the options.
But whether you choose paper or film for your labels, we'll provide high-quality printing with our digital and offset processes. (And that's we don't use flexographic or inkjet printing. The quality simply isn't good enough.)
What about freezer-grade labels?
Freezer labels are a little tricker. They need to be resistant not only to cold temperatures but also to moisture (there's usually a bit of meltwater and condensation). And foods that either contain oil or are preserved in oil need labels that will still be readable if any of that oil leaks out of the packaging.
We use either film or wood-free paper for our freezer labels. We then apply a frost-resistant adhesive that makes them suitable for temperatures as low as -20°C. (If you have any questions, don't hesitate to get in touch.)
Quality labels delivered quickly
As you can see, making food labels is trickier than making labels for other products. So you need a label-making company that can knows what's required and can give you the right advice.
The team here at PrimeLabels.com.au can give you that advice. As professional printers for every type of label, we never compromise on materials or print quality. Whether it's paper, film, coloured or transparent labels, we focus on high quality and quick delivery.
And don't forget our free sample pack, which can help you choose the right material and finish for your product.
Food Labels FAQs
All of the materials which we offer are industry-approved and feature widely across retail shelves and online shops.
The print and protective varnishes allow for both refrigerated and modern logistics environment; no running inks or scuffed labels. The industry standard permanent adhesive also means your custom printed labels won't be falling off anytime soon.
Finding the most appropriate material is more a question of which material best compliments your brand and this is a question which you must answer. Make the decision easier and request one of our Sample Packs.
We do not have a minimum order quantity as such.
Due to the nature of roll label printing production methods, we advise that 1000 pieces as good starting point. This ensures you receive a sensible cost per label.
More than one product; all labels are same size:
Perfect, digital label printing will allow us to print all your labels in the same production run and keep things extremely cost-effective.
More than one product; labels are different sizes:
Where label sizes differ, we will require additional cutting tools and machine set-ups. Essentially each size of label will be treated as a separate print run.
Tools & Resources:
Questions?
We're




here to

help!

Resources & Good To Know:
Food Labels Summary:

Permanent Adhesives
Suitable for Refrigeration
Labels on Rolls