Hello Brands & Businesses!
Custom Barcode Labels on Rolls for Organisations of All Shapes & Sizes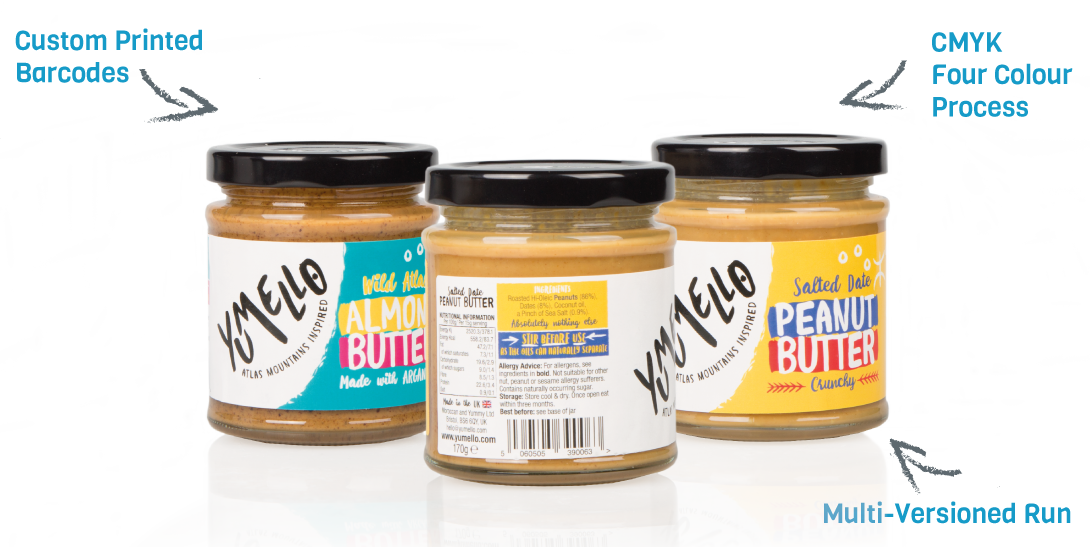 Barcodes for every occasion
Need barcodes or QR codes on your roll labels, product labels or promotional stickers? Just send them to us (as either part of your artwork or a separate table) and we can print them for you.
And like the rest of our labels they can be printed on a range of materials. You can even choose the type of adhesive whether it's permanent, removable (without residue), washable or freezer-grade.
If your barcodes are sequentially numbered, then all we need from you is the number range. But if the numbering is irregular you'll need to send each number to us in a table. Either way, thanks to our digital printing technology we can print QR codes as well as EAN 13, Code 128 and Code 39 barcodes.
Accurate, high-quality printing is paramount
For your product's barcode to be scanned correctly, it needs to be printed at a quality high enough for the machine to 'read'. If it's printed incorrectly, or at a low quality, the scanner won't be able to decode it properly. When that happen the barcode will need to be entered manually, which not only wastes time but can also lead to keying errors.
A barcode should represent the details of your product and be printed correctly so the machine can read it without any problems.
Can PrimeLabels.com.au Generate Barcode Labels for New Products?
A barcode is simply a visual representation of a unique, numerical retail code. You would need to supply us with your unique retail code and we can then generate your barcodes with ease. New businesses can register for their retail barcode numbers here (http://www.gs1.org/about)
Can you print multi-coloured barcode labels?
Yes we can. However, we recommend printing them in black on a white background so they're easier for the machine to read. (The machines rely on having contrast between the barcode and the background.)
If you want to use different colours then the barcode's background should be very bright (but not metallically reflective), and the bars dark for maximum contrast. You also need light zones around the barcode, and it should be at least 8mm from the edge of the label.
Barcode Label FAQs
We generally recommend a minimum width of 32mm and a height of 20mm. Please keep in mind, space/quiet zone should also be allowed for around the barcode.
The key is achieving maximum contrast; hence black on white being the widely accepted format. We generally do not recommend including colours; this being said, it's not a compelete
Sequential, consecutive numbering is possible. Simply send us your .csv file and we'll do the rest.
Tools & Resources
Questions?
We're




here to

help!

Label Manufacturer Summary:
Any Shape, Any Size Labels
Industry & Machine Ready
Custom Roll Sizes
PrimeLabels.com.au Summary:
Trusted Label Manufacturer
Free Delivery
5-10 Working Day Turnaround