Hello Brands & Businesses!
Custom Labels on Rolls for Organisations of All Shapes & Sizes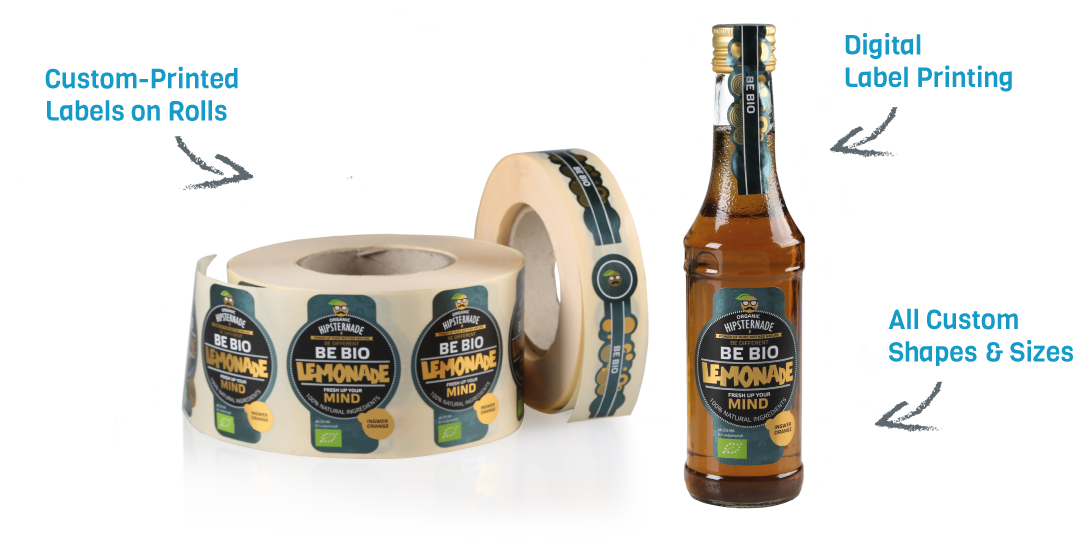 Get the right labels - on rolls
No matter what you make or what it comes in, we can create high-quality custom printed labels on rolls to suit your product, your brand and your business, using the latest in digital printing technology.
What's the difference between a 'label' and a 'sticker'?
You may have seen some label manufacturers talk about printing stickers. So what's the difference between a sticker and a label? From a printing perspective there's no difference at all. It's more to do with how they're used. Labels used for a 'price flash' or as part of a brand awareness/promotional marketing campaign are often referred to as 'custom stickers'.
We use the term 'labels' simply because most of our work involves creating product labelling for brands and businesses.
We can create labels to suit any packaging
When it comes to packaging, there's no such thing as 'one size fits all'. So you need to make sure your label 'fits' the package—regardless of its size or shape.
We can create custom labels in any size or shape. Depending on how many you need, we'll cut them to size using either a laser or a custom-designed tool. This will ensure your labels not only fit perfectly but also help your product stand out.
The flexibility of digital label printing
Thanks to our digital label printing processes, we can provide high-quality print on a range of materials at a competitive price.
It also means we can be flexible with our print runs. We can print multiple versions (including 'personalised' labels with customer names, promotional codes, and so on) in a single print run, giving you maximum flexibility while keeping your costs down. And if you're after that 'no label' look, we can print labels with white ink on a range of transparent materials.
Speaking of materials...
As you probably know, it's important to choose the right material for your labels. They need to not only look good and match your brand, but also hold up in commercial, retail and household environments.
We provide materials (which are all certified any industry ready) to range of industries, including some that are specific to particular industries and applications.
Giving your labels that 'premium' look
Are you producing a premium product? Then why not take advantage of our digital printing processes and add premium embellishments to your labels such as hot foil stamping and embossing? They can really help your product (and your brand) stand out from the competition.
And if you're providing us with artwork for your labels, make sure they're high quality too. It gives us the best chance of printing your labels in rich, vibrant colours that are full of detail.
We can even customise the rolls to fit your machine
Whether you'll be using our roll labels in a thermal transfer printer or a machine, we'll make sure they're just the right size. We can customise both the size of both the roll and the central core so they fit perfectly and maintain their correct orientation after calibration.
Custom Printed Labels FAQs
We do not have a minimum order quantity as such.
Due to the nature of roll label printing production methods, we advise that 1000 pieces as good starting point. This ensures you receive a sensible cost per label.
Should you require far fewer printed labels for your project, we recommend researching printed labels on sheets.
Our standard turnaround time for custom printed labels on rolls is 5-10 working days from artwork approval.
Like all businesses, we have peak times of year as well as quieter times. Our Online Calculator tool gives an indication of current lead times but it is always worth contacting our Customer Service team.
Technically sound label artwork allows us as a label printing company, produce the best quality printed labels we can.
Please see our detailed resource on label design and artwork.
Tools & Resources:
Questions?
We're




here to

help!

Resources & Good To Know:
Custom Labels Summary:
High-Quality Print
Paper & PP Materials
Any Shape, Any Size