Hello Brands & Businesses!
Metallic Labels on Rolls for Organisations of All Shapes & Sizes
All Metallic Colours Available
Industry-Approved Materials
Any Shape, Any Size Labels
High-Quality Print
Premium Foil Stamping
Fast Turnaround
Free Delivery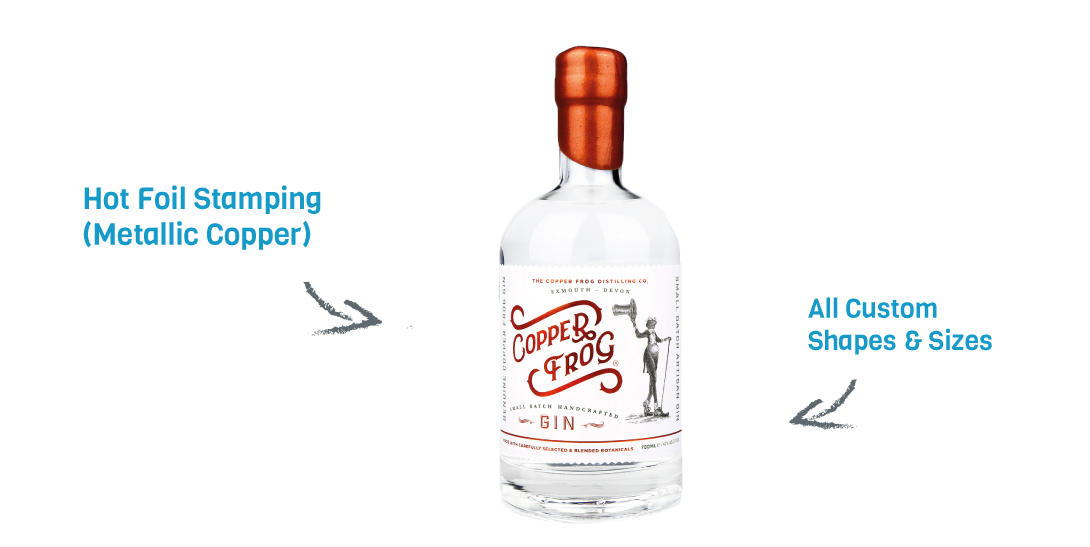 Printing metallic labels & stickers on rolls
If you'd like metallic labels for your product, we can make them in one of three ways:
hot foil stamping
metallic substrates
silver electro-inks
Each method can produce very different results, so you should order a free sample pack to see what the finished labels look like. But here's a quick overview on each process…
Hot foil stamping
This is the option most people choose when considering metallic labels. (It also provides the best finish.) It's predominantly used by premium brands to create luxurious looking labels for wines, cosmetics and luxury food products.
The hot foil is stamped onto the labels rather than printed, so it's a little more expensive. (There's additional tooling involved,along with machine setup and setdown costs.) But it's a standard process here at PrimeLabels.com.au, so you can quickly work out the cost using our online calculator.
Simulating metallic materials
But how can you create metallic labels and stickers using a digital printing process?
We do it by taking a metallic substrate (e.g. metallic-coated paper or silver-coloured PP film) and printing the labels using the four-colour (CMYK) mode. So we use the metallic properties of the facestock material (silver), and then print colours over the top to simulate different metals.
Want gold? We'll paint it yellow? Want rust? We'll paint it reddish-brown. And so on.
If you need minor variations of a design for slightly different products, we can print them all in the same run (providing the label size doesn't change) using digital printing.
HP Indigo Silver Electro-Inks
Along with the standard CMYK cylinders we use in our machines, we can also use what are known as 'spot colours'. Traditionally this was "HPI-White ink" (for white print on clear labels). But thanks to advances in digital label printing we can now offer silver as spot colour. And we can use this silver electro-ink in same way we use the metallic substrate we mentioned earlier.
Want a metallic red print? No problem. We'll just combine a silver spot colour with red.
It's also a great way to combine variations of small data elements on labels printed using more traditional substrates (e.g. matt papers).
Tools & Resources
Label artwork always has been and always will be a key part of the label printing process. For business who do not have resources to ensure their artwork is print-ready, we have a range of Artwork Services available.
There are many reasons as to why your business may need to see a press-proof before placing a full custom label order. We've developed a range of cost-effective proofing services.
Questions?
We're




here to

help!
Metallic Labels Summary:
Any Shape, Any Size Labels
Industry & Machine Ready
Custom Roll Sizes
PrimeLabels.com.au Summary:
Trusted Label Manufacturer
Free Delivery
5-10 Working Day Turnaround
Free, B2B Sample Book Tool:
Review Print Quality
Test Materials & Adhesives