Hello Brands & Businesses!
Custom Labels on Rolls for Organisations of All Shapes & Sizes
What Kind Of Businesses Use Custom Printed Labels?
As one of Australia's leading roll label manufacturers, we produce custom labels for brands and businesses of all shapes and sizes. But our main focus is Australian small to medium-sized businesses that need premium labels and stickers on rolls.
Of course, that doesn't mean they're the only ones that can afford our products. Because we can print multiple designs in the same print run (providing the labels are the same size and shape), we can print labels relatively cheaply. That means even startups can afford to use custom labels for their products. In fact, we regularly ship labels across the country—and across the globe.
Application via machine
If you are to apply your printed labels via machine, there are generally three important things to consider; the winding direction, the core size and the outer diameter of the final roll.
#1 Maximum Outer Diameter – Every labeller is different. (Trust us on this one.) So you need to make your label rolls have a small enough diameter to actually fit in the machine.
#2 – Core Size, Inner Diameter – The core is the cardboard tube your roll labels are wrapped around (just like a roll of toilet paper). And it needs to be the right size so it fits the spool of your machine. If it's too large the roll won't rotate and actually apply the labels. And if it's too small you won't even be able to fit it on the machine.
#3 – Winding Direction – This will determine how your labels leave the roll as they're applied to your product packaging. And it's important that you get it right, or your labels won't come off the roll correctly.
# Additional Tips:
– All the above information should feature within your machine manual.
– It's very common within the bottling world for labels to be narrow edge leading.
– Our standard core size is 76mm. We also offer 25mm and 40mm tubes.
– We can also configure rolls to feature a certain number of labels where necessary.
– For longer production runs we are able to offer a number carrying bands, including PET.
Applying them manually
If you'll be applying your labels by hand then there aren't too many things you need to worry about. Just peel the labels from the roll and get sticking.
One thing you may want to consider is how many labels should be on each roll. If the rolls are too big they may be difficult for you and your team to handle.
Not sure? Get in touch with our customer service team. They'll be more than happy to talk about it with you.
Winding Directions: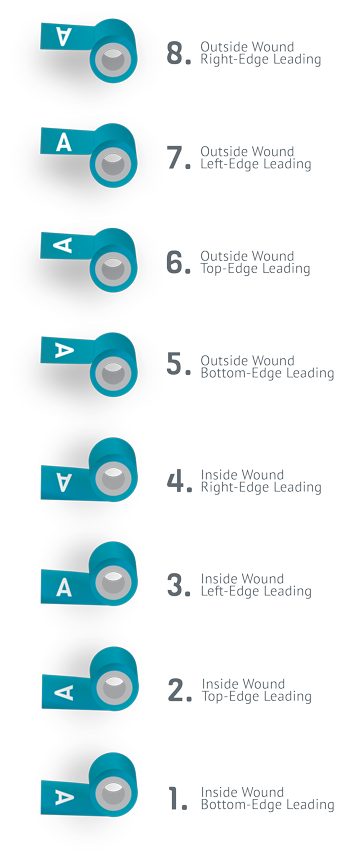 Resources & Good To Know:
Roll Labels Summary:
Custom Core Sizes
Rolls of Any Size
Custom Winding Directions