Hello Brands & Businesses!
Custom Can Labels on Rolls for Organisations of All Shapes & Sizes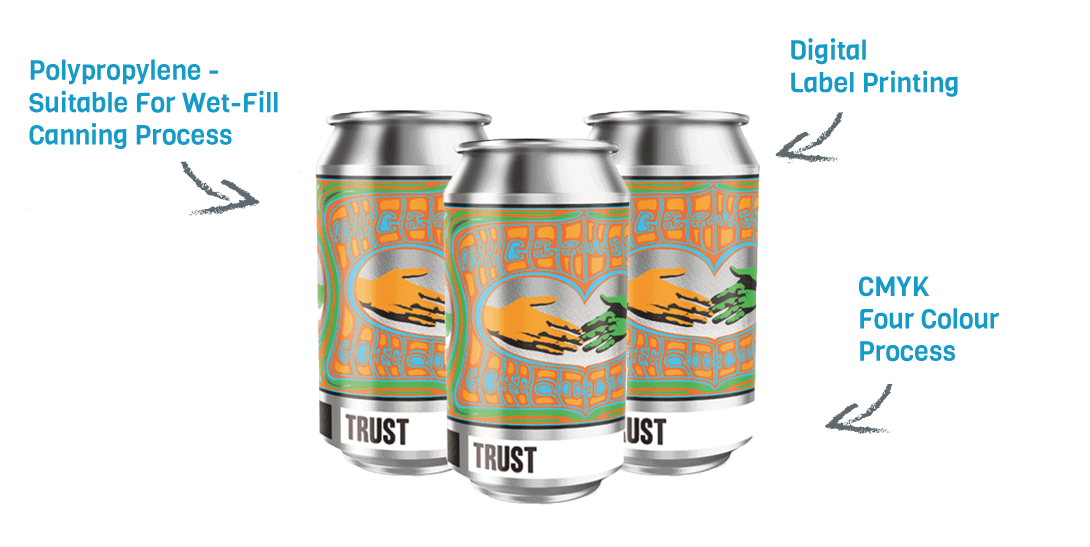 Bottle labels vs can labels?
When it comes to printing labels for bottles and cans, there's no real difference. We print them both on a variety of industry-ready materials, producing rolls of high-quality labels than can be applied manually or by machine. The only differences are the size, materials and designs. (We'll leave the argument over whether beverages taste better out of a bottle or out of a can to the experts.)
Combining Printed Cans with Printed Labels
The "problem" with printed labels and beer or wine cans is that the labels can only be applied to the central label panel and not over the "lip" at both the top and bottom of the can.  It's therefore a little tricky for brands to create the look of a fully printed can using adhesive labels alone.  A number of the breweries of whom we have worked with have chosen print their brands main messaging and colours on cans; cans that can then ultimately used across the entire product range and then differentiated their brews with multi-versioned label printing on a transparent polypropylene material.  By doing so, the brewer benefits from the lower costs per unit when printing cans and the flexibility of digital label printing.
Why not print on the actual cans?
Printing directly onto cans can be quite expensive for short runs due to the screen printing technology required. But applying custom-printed labels on rolls can be an extremely cost-effective way to brand your beverages. And digital label printing offers a far more flexible solution.
What's the most suitable material for can labels?
Cans are commonly filled and labelled using a wet-fill process, which means they're cold and wet when the labels are applied.  So look for a material that will survive the filling and labelling processes as well as look good on the shelf.
We recommend using polypropylene (PP) for can labels. The labels are completely waterproof and can be applied via a wet-fill process. It's also available in a white, silver or transparent film, which can help produce that 'premium' look.
The white PP is the perfect material for full-colour, high-impact print and graphics. And both the silver and transparent materials can create a 'no label' finish that looks just like a screen-printed can. We can even print white, opaque ink on the labels as an undercoat for a more vibrant print.
What size should my labels be?
We can produce custom labels in any shape or size. So what's the best size for your can labels?
We've worked with a number of breweries and vineyards, producing labels for 330ml cans (205x90mm) and 440ml cans (205x120mm). But ultimately it's up to the brand owner to decide what size and shape the labels should be.
If that's you, you need to decide how much 'gap' you want to leave between the edges of the label. (Overlapping them can cause issues if they're applied using a machine.) You also need to make sure it doesn't extend to the tapered areas of the can.