Hello Brands & Businesses!
Custom Product Labels on Rolls for Organisations of All Shapes & Sizes
Premium-Quality Materials
Any Shape, Any Size Labels
High-Quality Print
Premium Finishing
Fast Turnaround
Free Delivery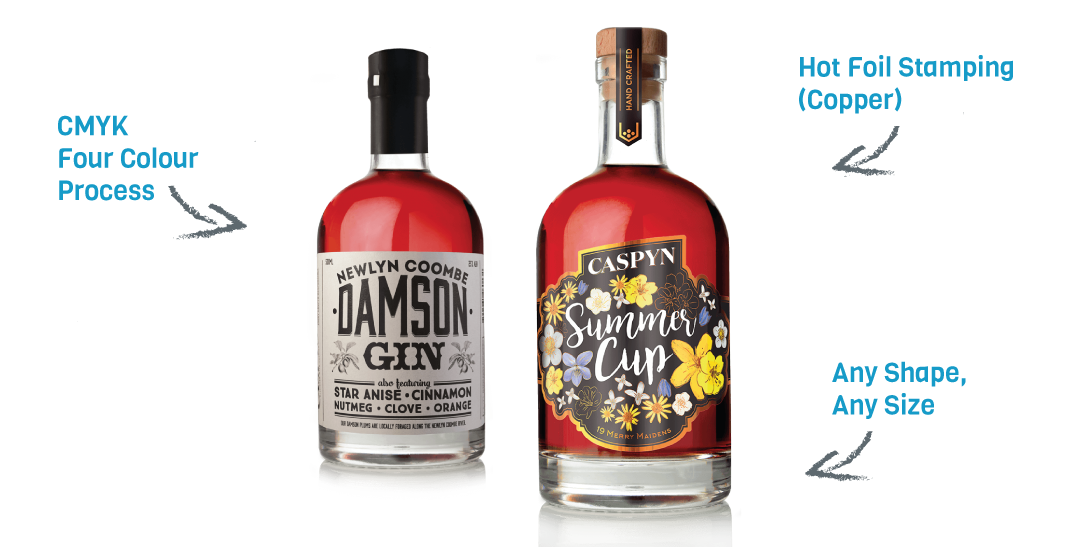 Products labels that actually match your brand
You've put a lot of work into creating, developing and nurturing both your brand and your product. So your labels need to more than just describe the contents of your products. They also need to match your brand.
Labels don't just advertise your product. They're the face of your product. Everything about them—from the material to the design—needs to sell your product, attract new customers and represent your brand.
And as Australia's online label printer, we can play a big part in making that happen. By combining state-of-the-art technology with conventional and digital printing techniques, we can create labels that display your designs in the highest possible quality.
The process
To print custom labels on rolls we tend to use both digital label printing and label converting. Here's what's involved in printing your adhesive labels, along with a number of finishing options you can choose.
Any size, any shape
No matter what the size or shape of your packaging, we can create and print a label that fits it perfectly. Rounded corners, bottlenecks and even tamper-proof labels are no problem for us.
We'll protect your labels with UV protective varnishes
To help protect your labels from fading under UV light, we apply a clear protective varnish at the end of the production process (just before they're cut). It also protects them from minor scuffs as well as from liquid contamination (to a certain extent). You even get to choose from a matt or gloss finish.
What about film lamination?
For a more premium look and feel (as well as better durability) we can apply film lamination to your labels. Available in both matt and gloss finishes, it creates a stronger effect that can't be achieved with varnishes alone.
Gloss film lamination creates the super glossy look often used on sports nutrition, cosmetic and chemical labels. And matt film lamination creates a silk finish that will make your labels look soft yet striking.
There's also hot foil stamping
Hot foil stamping can give your labels a premium look and feel, especially when used on premium materials. Often used on cosmetic products and beverages, it can really make your product stand out from the rest.
Two options for custom labels
If you'll be applying your custom printed labels with an application machine or filling line, it's important to choose the right roll configuration. Here are your two options
Digital label printing
This has been a real game changer, not just for us but for the entire label printing industry. It means that as long as your labels are all the same size, shape and material we can print as many variations as you need in the same print run. This is a great way to add customer names, special codes, and even batch and sequential numbers to your labels for minimal cost.
Multi-variation designs and premium custom finishes
Sometimes you need label variations for a range of different products. While we can't take advantage of digital printing in these cases (because the labels will be different sizes and/or shapes), we can still do multi-variation runs (long or short) for less than you might think.
We can print any custom colour you need—from a single Pantone spot colour right through to a four-colour (CMYK) combination. We can also print, simulate and foil-stamp metallic colours, which will really make your product stand out.
If you need a custom stamping tool, we can help with that too. All you need to do is choose the shape and size you want your labels to be—circular, rectangular, or whatever shape you need.
And don't forget: If you want hot foiling, embossing or spot colouring on your labels, we're your printing company. Why not check out our previous work in our label gallery? Or better yet, order a free sample book so you can test our labels out yourself.
4 tips to help get you started
Labels are an important part of your product's marketing. So here are some things to think about when designing them.
Product label printing is very much a two sided story; as a label manufacturer we can, of course, only custom print labels that we have been given in your artwork. If we are sent great quality artwork, as AU's online label printer, we are certain we can produce fantastic quality printed labels on rolls using it. Where artwork isn't quite up to scratch … issues with quality and consistency can and do arise – and that goes for any label printing company! Here are a couple of things to consider:
Bleed/Safety Zones – We utilise a number of machines to print custom printed labels on rolls. As your printed labels are running through our cutting machines, the material can wobble up to 1.5mm from top to bottom; not bad considering the size of the machines are the length of a production hall. This effect is sadly unavoidable for any roll label printing company; however, here's how we get around it. By using a print bleed. This basically means continuing your printed labels background or design an extra 2.5mm around the entire perimeter of your label. For example, if you are looking for a label that measures 100mm in diameter, you should provide artwork that is 105mm in diameter, allowing for the print bleed. For the same reasoning, no information or important design elements should be within 2mm of the edge of your label artwork.
Set up Colours using CMYK – The screen you are using to read this webpage is using RGB (Red, green and blue). Any print materials, whether they be magazines, flyers or printed labels on rolls use the CMYK (Cyan, Magenta, Yellow, and Key, Black) colour space. Ensure that your label artwork is set up in CMYK otherwise the colours could be very different!
Invest in a Professional Designer – As an online, product label printing company we see hundreds of designs of custom product labels each each an every day. It's safe to say that the labels that we print again and again are the professionally designed product labels; the products that they have been applied to aren't just selling, they're selling well!
We can appreciate that professional design is an additional cost, however, from experience we see it as an investment that repays itself tenfold over time. At this stage we do not offer any design services, we see it best that the creative people out there look after the label design and we'll look after the production side of things. Read More about artwork requirements here. ** For the record, there is nothing cooler to a label manufacturer than receiving print ready artwork. It makes it easier to discuss, advise on and ultimately produce awesome packaging labels.
As well as the product label printing side of things, it's also important to understand how your printed labels will be used once they have been delivered. Will the roll labels be used in a label application machine? If so then it is important that you have explored winding directions and roll core-sizes; we're pretty sure that you'll want the labels to fit in tour machine. Read more about roll labels and configurations here.Another note on machine-use and bottling lines in particular. Do you know if your bottler is to apply your bottle labels while the bottles are being filled or still wet? Are the bottles to be  then washed down again? This is important to know where you are looking to use paper-based materials for your custom printed product labels. Paper labels like to absorb water. Condensation in't normally too much of a problem where a UV varnish has been applied. This being said, some bottling lines use far more water in some filling processes – in this case we would always recommend using polymeric based material such as polypropylene as it will not absorb any water, no matter how wet the environment. If the labels are not to be used in a machine then it is well worth thinking about how the labels on rolls will be handled manually by you or your team.
Are you looking to overprint your product labels with best before dates or other forms of post production information? Have you considered the print technology you will be using? Industry standard is generally thermal transfer printing and all of our materials and varnishes are compatible. Things to look out for are inkjet printing, direct thermal printing and of course any roll configurations that are required so they will fit correctly in your on-site printer.
Digital label printing has revolutionised the world of label printing. What this essentially means is that so long as your label designs remain the same shape and size across different products, we can print them all as a part of the same run. Doing this of course allows businesses to dramatically reduce the cost per label and keep requirements cost-effective. Read more about digital label printing here.
Questions?
We're




here to

help!
#1 - Make a great first impression
The first thing people will notice is the look and feel of your label. So make sure it has a snappy design that immediately grabs their attention.
#2 - Clearly define the product and your brand
No that you've got their attention, your label needs to tell them what they're looking at as quickly and simply as possible. This is where a logo and a look that's instantly recognisable can give your product a big advantage.
#3 - Don't skimp on quality
No matter what you're selling, people will subconsciously grade the quality of your product by the look and feel of the label. (Isn't that what you did the last time you bought a bottle of wine?) So printing your labels on the right material (textured paper, perhaps?) with a premium finish such as hot foil stamping can give you a much better chance of a sale.
#4 - Provide the information consumers need
While your labels need to look good, they also need to provide consumers with the information they need. This can become a balancing act—informative yet concise, interesting yet simple, eye catching yet clear. But it's a necessary step when designing your labels.
Resources & Good To Know:
Product Labels Summary:

Any Shape, Any Size
Multi-Versioned Runs
Labels on Rolls