Hello Brands & Businesses!
Custom Wine Can Labels on Rolls for Organisations of All Shapes & Sizes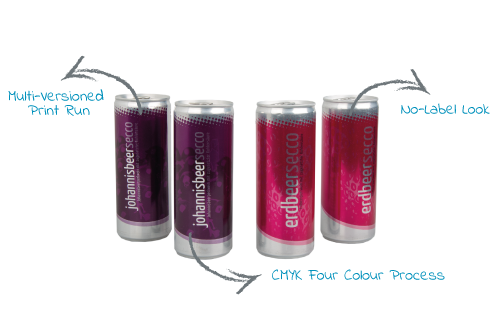 A New Revolution in Drinking
Perfect for a picnic or festival, to test wines without having to open a bottle, or to have the equivalent of a glass or two without worrying about finishing the rest of the bottle.  Counting points or calories perhaps?  Wine in a can is definitely trending in terms of drinking and what's not to love?
Already big in the US, Wine Cans have been making their way into the Australian and New Zealand markets since 2016, but this year and next the trend looks set to hit big time. 
Sustainable & Recyclable
What is sustainability?  According to the Cambridge Dictionary:
"Causing little or no damage to the environment and therefore able to continue for a long time"
To champion sustainability is not only important for the planet but also to better connect with consumers. We hear a lot about heavy bottles, a lot about herbicides but little in the form of any such push to innovate in the trend of canned wine.
Australia is the 6th largest producer of Aluminium in the world, of which about 75% of which is recycled. 
Recycling aluminium cans saves energy and natural resources, and also reduces the pressure on landfill sites.
Aluminium cans that are recycled in Australia are melted down and turned into ingots of aluminium, which are used to make new cans. This is called closed loop recycling, because old cans go in and metal to make new cans comes out. For further information about recycling, click here
Cans are also significantly lighter than glass, meaning reduced fuel usage. This means that once they're in circulation, experts argue it's easier and more energy efficient to recycle aluminium than glass. All-in-all, recycling a can uses 90% less energy than recycling a glass bottle. 
Wine Can Labels
Custom printing wine can labels on rolls can be an extremely cost-effective method of branding your beverages. Printing directly onto cans via a method called screen printing is generally rather expensive for short runs; digital label printing offers a flexible solution.
Digital printing also offers us the possibility to produce your labels CO2 reduced and without using chemically treated printing plates.  As the printing machine does not require long lead times, it only runs when it actually produces.  In addition, no extra cutting plate has to be made.
Polypropylene (PP) Can Labels
Polypropylene is a waterproof, polymeric material that is synonymous with the beverage industry. Polypropylene is available as a white, silver or transparent film; all suitable for high-quality can label printing. White PP film can be used for full colour, high-impact print and graphics. Both the silver and transparent materials can be used to create a "no label" look; these materials can be utilised to simulate the aforementioned screen -printing technology. To achieve vibrant print, we also have the ability to print white, opaque ink on the labels as an undercoat.
Good to Know:
The standard wine can size is between 200 and 250ml.  This is the same size as a large glass of wine at a pub or bar.  Therefore two cans is half a bottle and plenty enough.  
We can produce labels for cans in a range of sizes to suit your requirements.
Contact us today for a Free sample pack
primelabels.com.au offer a wide range of materials to suit your Wine in a Can.  Visit our materials page for more information.
You still have no idea what your label should look like? Your label or logo needs fresh colour or a re-design? Then we have the solution!
Our design service offers you the possibility to have a great label designed at a fixed price and according to your wishes. Find out more here
Questions?
We're




here to

help!