Advantages of Using Primelabels.com.au:
Front and Back Label Available in One Order
Ideal for Machine Processing
Free Sample Book
Free in Form & Design
High Quality Digital Printing
Convenient Online Ordering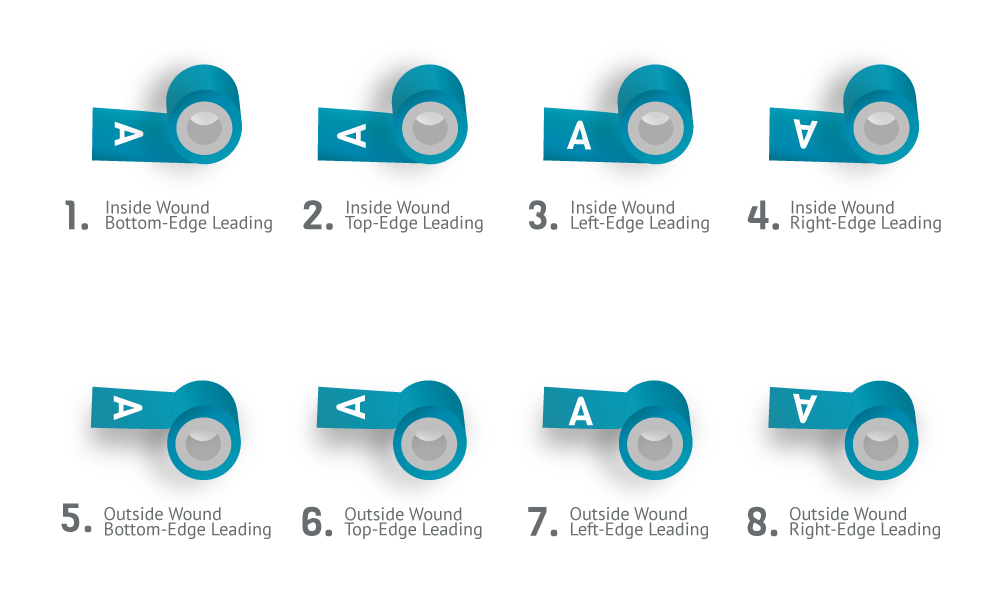 What You Need to Know Regarding Winding Directions:
If you want to process your roll-fed adhesive labels by machine, it is important that you know which winding direction is required for your machine.
In principle, there are two winding directions for your roll adhesive labels:
#1 Internal winding (Inside)
#2 Outer winding (Outside)
The printed side can therefore face inwards or outwards.
It is also important to distinguish the positions of the labels on the roll.  There are four variants:
#1 Bottom Edge Leading
#2 Top Edge Leading
#3 Left Edge Leading
#4 Right Edge Leading
If you are unsure of the winding direction you need for your labels, simply contact our Customer Service Team who will be more than happy to assist you.
We can be reached on Monday to Friday from 9.00 to 16.30 hrs by telephone on 1800 954 777 or by mail to info@primelabels.com.au where we will be happy to help you!
What is the Next Step?
If you do not yet know on which materials you would like to print your roll adhesive labels, order our paper sample book free of charge.  There you will find an overview of our standard materials including pre-cut sample labels which you can stick on your products for testing.
If you already know what you need, you can easily calculate your labels online in our calculator. If you like the quote, you can either send it to yourself by e-mail or order it directly online.
If you have any further questions, simply write to us using the contact form.