Hello Brands & Businesses!
Custom Labels on Rolls for Organisations of All Shapes & Sizes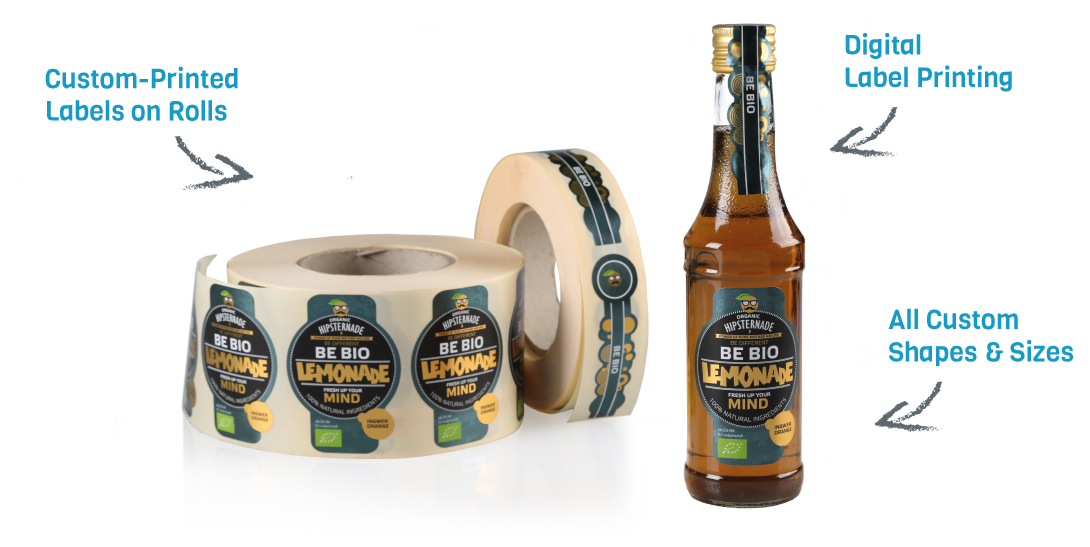 Printed Labels For Businesses
Labels and stickers are both a versatile and a cost-effective marketing tool used by businesses and brands across every industry. They generally fall into two categories; product labelling and promotional stickers. Furthermore, it is important to understand that there are a number of ways that custom product labels and printed stickers are manufactured.
Our focus lies in servicing predominantly small to medium sized businesses; businesses who mostly require their labels delivered on rolls.
#1 Approved, Industry-Ready Materials
Custom printing self-adhesive labels on rolls has very few limitations in terms of materials. From textured matt papers synonymous with the wine, spirits and organic food industries to glossy white and transparent polypropylene films associated with labels found on household, cosmetic and personal care products; roll labels offer brand owners great variety.
When discussing materials, it's important not to forget the role of adhesive. Although primarily permanent adhesives used widely across packaging labels, we do offer both low-tac and freezer grade adhesives where required.
#2 - Fully Customisable Labels
In addition to the variety of materials and adhesives, custom label printing is not limited to set shapes, sizes or finish. This of course lends itself to brands and businesses' need to differentiate themselves from alternative products within the same retail environment. Our customers may wish to customise their printed labels by introducing a custom shaped cutting tool or possibly adding hot foil stamping as a premium embellishment. Printing labels digitally affords brands the opportunity to experiment with personalisation and more commonly with releasing limited edition print runs.
#3 - Applying and Processing Commercially
Applying labels to products and bottles by their thousands using machines, in most cases, is much more efficient and accurate than manual application. In addition, brands and businesses often take our printed roll labels and add supplementary information as they are being applied to products. Taking food labelling as an example, brand owners can add packaging dates, BBE dates and the like via an overprinting method called thermal transfer printing.
Printed Labels FAQs
We do not have a minimum order quantity as such.
Due to the nature of roll label printing production methods, we advise that 1,000 pieces as good starting point. This ensures you receive a sensible cost per label.
Should you require far fewer printed labels for your project, we recommend researching printed labels on sheets.
Our standard turnaround time for custom printed labels on rolls is 5-10 working days from artwork approval.
Like all businesses, we have peak times of year as well as quieter times. Our Online Calculator tool gives an indication of current lead times but it is always worth contacting our Customer Service team.
Technically sound label artwork allows us as a label printing company, produce the best quality printed labels we can.
Please see our detailed resource on label design and artwork.
Resources & Tools:
Questions?
We're




here to

help!

Printed Labels Summary:
Any Shape, Any Size Labels
Industry & Machine Ready
Custom Roll Sizes
PrimeLabels.com.au Summary:
Trusted Label Manufacturer
Free Delivery
5-10 Working Day Turnaround