Your Order
Only a few more steps towards your new label
To place an order, please log in.
Delete address
Are you sure you wish to delete the selected address?
Order Name
Give your job a name! We'll note this name on all of the order documents and on your bill. This simplifies tracing your order in our production.
Order Comments
Is there something you'd like us to know? Type in any comments you would like to be passed on to our production team.
Winding Direction
Please indicate the winding direction needed for your labels for their application. Choose between internal or external wound rolls and the labels' orientation on the roll. See the images below for guidance.
1.
Foot Forward,
Inner Winding
2.
Head First,
Inner Winding
3.
Words First, Inner Winding
4.
End First,
Inner Winding
5.
Foot Forward,
Outside Winding
6.
Head First,
Outside Winding

7.
Letters Ahead,
Outside Winding

8.
End First,
Outside Winding

Payment Methods
Choose between credit card (Visa or MasterCard) or PayPal.
For more information, see our payment method FAQs.
Shipping Options
You will receive all deliveries through our logistics partner UPS. Shipments with UPS, the surcharge will depend on the weight of the package. In our FAQs we have broken down the shipping costs.
Maximum Roll Diameter
You determine the size of your label rolls. Give us the maximum roll diameter, and we deliver them in your desired size. Do you prefer a certain number of labels per roll? No problem – you can choose how many!
Proofs
We can provide a digital press proof of your labels in a PDF file, where we simulate the paper and colours of the label(s) to be printed.
In production, we adhere to strict standards to match the colour values of your proofs​​. If you would like to see the print work your labels before finalising them, you can ask about our Colour Press Proof service.
Professional Datacheck
Play it safe – let our specialists check your print data and ease any concerns about your final label results. Our specialists will send you a data check report as quickly as possible. If we foresee production issues, we use our expertise to find a solution and provide assistance to resolve the issue in communication with you
Shipping Label Proofs
Regardless of the final shipping address for your labels, if you wish to receive your label proofs at a different address, you can enter this here. If this option is selected, ten copies of the print job will be sent to the selected address in a reusable UPS Express Envelope.
Voucher Code
Do you have a voucher code? Enter it here and take advantage of your discount!
Data Upload
Upon completion of your order you will be able to log-in to your account and upload your artwork via drag and drop. Should a third party be looking after your artwork then you'll be able to pass on the upload ID found at the bottom of your order confirmation email.
Hot Foil Stamping
Stamping foils create a particularly high-quality effect due to their lustre and colour intensity. Using heat, the film is applied to your chosen label material. A specially crafted embossing tool made just for your label designs allows for unlimited design options – whether used for text, as a fill colour, or outlines. Your embossing gives the label a certain something special – an added shining touch! Many printers do not produce this – for us, it's an absolute standard.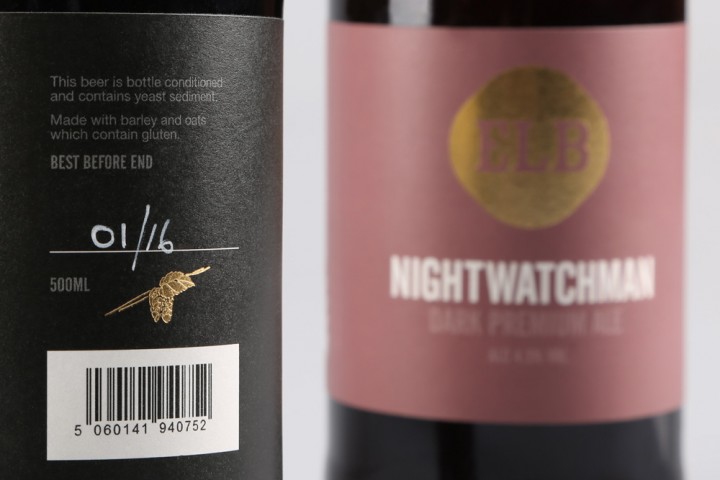 Printing Different Varieties
Need to order several design varieties of your label? By selecting 'different varieties', you will have the option to enter the number of different label varieties needed.
Under 'quantity', please specify the total amount of labels. The allocation of individual amounts on the different varieties is made after purchase.
Note: Labels within one job may only differ in their printed design. Different label materials or labels with varying finishes (eg. labels with varying varnishes or different coloured hot foils) are not possible on a single print run.
Protective Coating/Matt Lamination
Do your labels require special protection, a special shine or a matt appearance? We apply a UV protective varnish in matt or gloss to the entire surface of the labels as standard – this helps protect the print work from light wear and tear, and also stops it fading when exposed to light.
For superior protection and/or a stronger matt or gloss effect, we offer a film lamination finish. Here, a protective laminate is applied to the entire label. The laminate has a thickness of 12μ (microns) and is available in gloss or matt. Lamination is offered for labels with a minimum size of 50×50mm.
label.co.uk Prices
We like to keep things simple, so the price that we quote you includes tooling and shipping costs already. You can select any additional finishes or services during the ordering process. Let us know if you're looking for a finish that isn't included in our Online Calculator.
Papers & Materials
Choose from our wide range of standard and premium label papers and films to suit your needs. Questions about our materials? Read our Label Paper & Material Guide.
Wet Glue Labels
Wet Glue Labels are paper labels that need to be glued before sticking. Inexpensiveness, unlimited shelf life, and easy removability are the key benefits of Wet Glue Labels. They're used mainly in longer runs for application on bottles or cans.
Machine Processing
If your labels are to be applied via machine, the winding direction is important and needs to match the needs of your machine. If you're applying your labels by hand, then this isn't something you necessarily have to worry about.
label.co.uk Delivery Times
Our production turnaround time is generally 5 – 10 working days regardless of whether they are self-adhesive or wet glue labels. Delivery is either via UPS shipping (free of charge, 5-10 working days).
Our Online Calculator takes our current production volume into account in real-time to provide the delivery estimates. Express Production takes place within 48 hours and is only possible if we have the necessary production tools (cutting, embossing, etc.) already in house. Likewise, we generally can't offer Express Production for over 20,000 pieces, but we strive to make it possible if we can.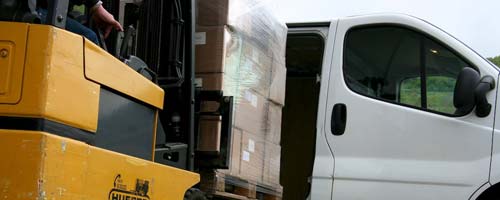 Delivery Address
Here you can select your delivery destination. You can choose a delivery address different to the billing address. You can manage this within the "My PrimeLabels.com.au" area of your customer account.
Please note that additional charges can apply depending on the delivery destination, and deliveries can only be made through UPS. The costs are calculated based on the weight of the package. For details, see our section on shipping in our FAQs.
Roll Core Diameter
If your labels are to be applied mechanically, the roll core diameter is important – your roll needs to fit onto your machine! You can select a diameter of 76 mm, 40 mm or 25 mm. If your labels are going to be hand applied, the core diameter is not important.
Self-Adhesive Roll Labels
Self-adhesive, custom shapes, multiple finishing options, and simple processing are the key advantages of self-adhesive labels on rolls. Roll adhesive labels can be used universally – in particular on bottles, product packaging, cans, jars and other containers.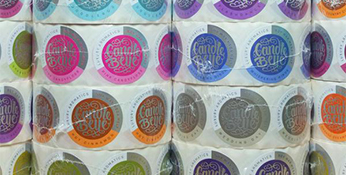 Label Size
Please enter your desired label format in mm. While you're free to choose your desired label dimensions, please note the following minimum and maximum formats:
Self-Adhesive Labels
Width: min. 20 mm, max. 585 mm
Height: min. 20 mm, max. 308 mm
Self-Adhesive Labels with Finishing
Width: min. 20 mm, max. 250 mm
Height: min. 20 mm, max. 300 mm
Self-Adhesive Labels with Metallic Spot Colours
Width: min. 20 mm, max. 305 mm
Height: min. 20 mm, max. 300 mm
Wet Glue Labels
Width: min. 20 mm, max. 700 mm
Height: min. 20 mm, max. 500 mm
Colour Variations
For your labels you can choose between the following colour variations:
Four Colour (Euro Scale): all images, fonts and colour variations are created from four basic colours (CMYK).
Euro Scale + 1 Spot Colour: All images and fonts are created from CMYK. For special effects and colours, you can also use a Pantone spot colour, this is simulated by means of special colours in digital offset printing. 
Only Spot Colours: The colours on the labels are made up of up to seven special colours from the Pantone colour space. These can be simulated with the help of special colours in digital offset printing.
Black: The labels require only black printing and have no additional colour.
Blank: Self-explanatory, but also the case for labels finished only with hot foil or varnishes.
Want more control over colour options? On the Online Calculator, you can specify special colours.
Quote via Email
Do you require a quote for a friend, colleague, or as a reference for your records?
After creating your quote using our Online Calculator, you can quickly and easily send it via email. Simply enter the name and email address of the desired recipient.
Please note that material prices fluctuate along with market value, and that prices can therefore change over time. The quoted price is therefore non-binding until an order is placed.
Please also note, that the estimated delivery date within quotes are also subject to change, since they are based on an order placed on the same day.
Colour-Press Proof
So that you can see the quality and the colours of your labels, we offer you a colour-accurate proof. This test print is printed on the machine to be used in final production with your chosen paper/substrate .
Label Shape
Choose the shape of your labels.
Rectangular Shape (Standard Format)
Here you have a variety of standard formats to choose from. Please note that our standard rectangular corners have a curved radius of 0.5mm.

Circular Shape
If you want to print a round label, select "circular" as a form. Please note that oval labels must be specified as »free form«! 


Free Form
We do not want to limit your creativity! Please note that we have to charge increased tooling costs here, because we can only use the tool for your individual labels. Likewise, custom labels have a longer delivery time.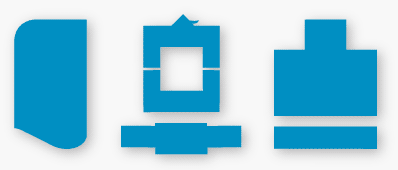 Selecting your Industry
By letting us know your industry, we can add additional, industry-ready samples that reflect trends within within your area of work.
Print Run-Length
Informing us about the size of the potential print run is important. We have a number of machines that are more suitable at different levels of production. Allow us to send you the correct samples and cost-effective prices!
Payment Methods
Choose between credit card (Visa or MasterCard) or PayPal.
For more information, see our payment method FAQs.
Artwork Services
We'll help you ensure your label artwork is print-ready! Depending on your choice of material and label finishing, you are able to choose from two service options; Smart or Pro. We'll put your artwork files through a rigorous, technical data check and make necessary, technical alterations. The respective services ensure that appropriate print layers, colours, print tools and HPI White elements are correctly applied. Please note: Our artwork services are not a label design and branding services; they are technical check and correction services. More information can be found here.