Hello Brands & Businesses!
Custom Bottle Labels on Rolls for Organisations of All Shapes & Sizes
Premium-Quality Materials
Industry-Approved Materials
Any Shape, Any Size Labels
High-Quality Print
Premium Finishing
Fast Turnaround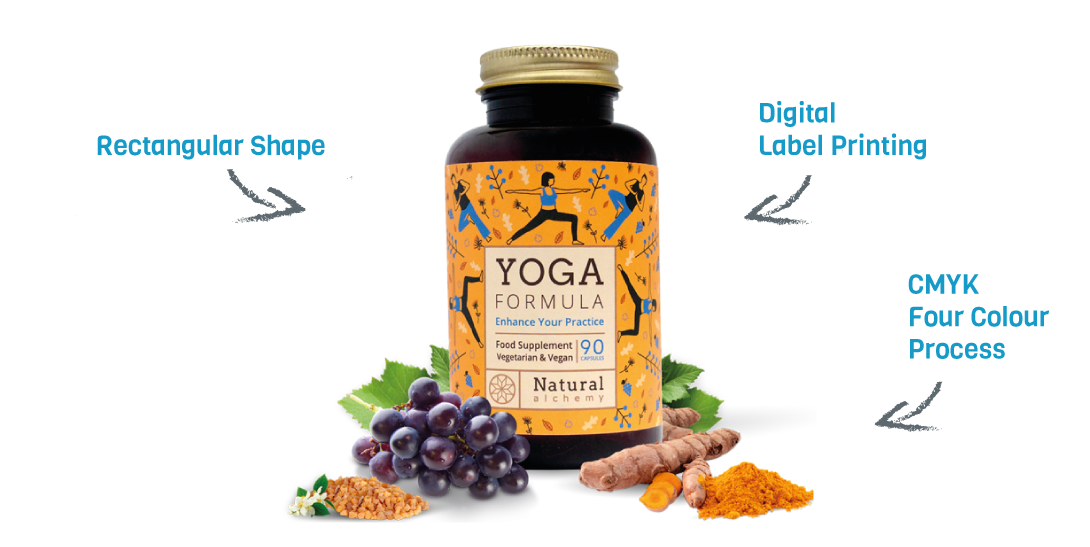 Introducing nutraceutical and personal care labels
Need labels for your sports nutrition, health or beauty products? We can provide you with industry-grade labels you can apply to your pots, tubes, bottles or whatever your products come in.
And if your products come in different flavours, colours or scents, we can easily create minor variations of your labels. With our digital and conventional presses we can do multi-version print runs quickly—and for a lot less than you might think.
We know your industry
We understand that you work in a highly regulated industry that's constantly evolving. But thanks to our online interface and digital roll label production facilities, we have the flexibility to meet your needs.
We know your products
Our labels will help your products stand out on the shelf. Whatever material and finish you choose—transparent film, textured papers, custom colors, hot gilding—our labels will add value to your products. And thanks to their protective varnish, your product information will always be legible.
And we're fast
Like your customers, we're all about speed and endurance here at PrimeLabels.com.au. We can print and deliver your order in less than a week.
But we know that looking good is important too. So even though we're fast, we'll never compromise on quality.
Nutraceutical Labels FAQs
The nutraceutical industry is an interesting one from a product labelling point of view.
In terms of material selection, there is no real hard and fast rule. The vitamins and minerals you often find in the aisles of the supermarkets often have a standard, glossy finish material; cost effective.
On the flip-side sports nutrition brands generally go bigger, bolder, faster and stronger than any other. Here it's all about high impact; high gloss laminations, metallic finishes and looking better than the product placed one space along on the shelf.
We often produce large labels for brands within the nutraceutical industry; particularly for sports nutrition brands needing labels for larger pack formats such as buckets.
In theory, the largest label we could produce would have dimensions of 615x300mm.
Digital labelling printing is extremely suited to the sports nutrition and nutraceutical industry. The ability to print labels for multiple powder flavours or vitamins in one print run is groundbreaking.
The fact that brands can also account for best-selling flavours and produce uneven splits of labels across the run is a "no-brainer."
Questions?
We're




here to

help!
Jar Labels Summary:
Any Shape, Any Size Labels
Industry & Machine Ready
Custom Roll Sizes
PrimeLabels.com.au Summary:
Trusted Label Manufacturer
5-10 Working Day Turnaround
B2B Tools & Resources:
Review Print Quality
Test Materials & Adhesives