Hello Brands & Businesses!
Blind Embossed Labels on Rolls for Organisations of All Shapes & Sizes
Exclusive Look
Optical Eyecatcher
Tangible Quality
Special Feel
Numerous Materials
Free Delivery to Australia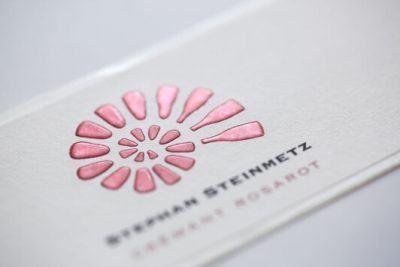 What is Blind Embossing?
High-quality and individually embossed labels stand out from the crowd.  Compared to conventionally printed labels without finishing, embossed labels shine not only with their noble, unobtrusive appearance but also with their special feel.
Blind embossing is a classic finishing technique in label printing.  It dispenses with color highlighting and only impresses with a partial deformation of the label material, which is why the process is also known as "colorless embossing".
Labels with blind embossing are given a raised or recessed shape and thus a tactile contour.  A distinction is made between deep embossing* (lowered elements) and raised embossing (raised elements).  The intensity of the embossing depends on the material thickness.
*Unfortunately, we at primelabels.com.au cannot implement deep embossing.
Single-Stage and Multi-Stage Blind Embossing
A further distinction is made between single-stage and multi-stage blind embossing.  Single-stage blind embossing has all embossing elements on one level, multi-stage blind embossing on levels of different depths.  Please note that the blind embossing remains visible on the back of your label.
Blind embossing can also be used to create a so-called structure embossing.  This means that the surface of the entire label is embossed with a special structure in three dimensions.  The depressions and elevations that are created during blind embossing create a special effect through an unusual play of light and shadow. Both visually and haptically, a special attraction is created that stands out.  The different structure gives the label a  special character.
We are Happy to Advise You!
We would be pleased to send you sample labels with blind embossing, hot foil stamping or relief cut embossing.
Simply write to us using the contact form, by e-mail to info@primelabels.com.au or by phone from Monday to Friday under 1800 954 777.
Further Information:
In contrast to blind embossing, hot foil stamping uses a wafer-thin foil to highlight the desired area on the surface of the label.
These color or metallic foils are embossed onto the label using special embossing tools and heat.  Almost all our materials are suitable for this finishing process.  Thanks to hot foil stamping, details can be realised in a particularly noble and filigree way.
Find out more here.
Our design service for labels offers you the possibility to revise and revive your existing label design or to have a completely new design created.
Our professional graphic artists will design the label according to your wishes and specifications.
Interested?  Click here.
Competent and friendly customer service is also very important for us as an online label printing company.
We will be happy to answer your questions and suggestions.
You can reach us Monday to Friday between 09.00 and 16.30 o'clock on 1800 954 777 or by mail to info@primelabels.com
Questions?
We're




here to

help!